Setting up an electric vehicle (EV) charging station at home will provide you with reliable and convenient charging. But, before doing so, there are important considerations to help ensure you wind up with the right setup to fit your needs. For Level 2 home charging, which is up to 8x faster than the Level 1 chargers that come standard with new EV purchases, installation decisions should be informed by the following: 
Where should the purchased charger be set up?
What's the range of distance from charger to EV?
Do I have or need a 240v outlet to plug in?
Do I want to have the electrical hardwired?
Distance from the charger to an electrical outlet
Electrical panel information
Should an electrician be hired to set up your charger?
Do I have a reference for a Certified Electrical Installer?
Should I consider installing additional charging stations in the future?
As you can see, there is a lot to consider when setting up an EV charging station at home. But by planning ahead, and installing the correct EV charging system for your needs, you can avoid costly mistakes and pitfalls, as you work to get on your way to fast, safe, and convenient home charging.
EV Charging Station Setup Checklist
If you have a garage, that's generally the best and most convenient place to set up an EV charging station at home. However, that's not the only safe spot. For instance, the Level 2 EVSE home charger and Smart iEVSE Home charger, like all other chargers from EvoCharge, are NEMA 4-rated. This means they are certified for indoor or outdoor charging in conditions ranging from -22℉ to 122℉ (-30℃ to 50℃). A charger exposed to temperatures outside of this certified range can decrease the functionality of the product.
If you choose to set up your electric car home charging station in the garage, the distance from your ideal installation location and an existing power source, and your access to an electrical panel are important. The EVSE and iEVSE Home are available with either an 18- or 25-foot cable, which offers plenty of length for most people with two- to three-car garages. EvoCharge chargers come standard with a NEMA 6-50 plug for easy installation, or the plug can be removed for a hardwire install by an electrician.
Smart EV Home Charger
Easily manage your charging with iEVSE Home, EvoCharge's smart electric vehicle (EV) home charger. With Wi-Fi connectivity and a user-friendly app, you can take control of your station's charging capabilities.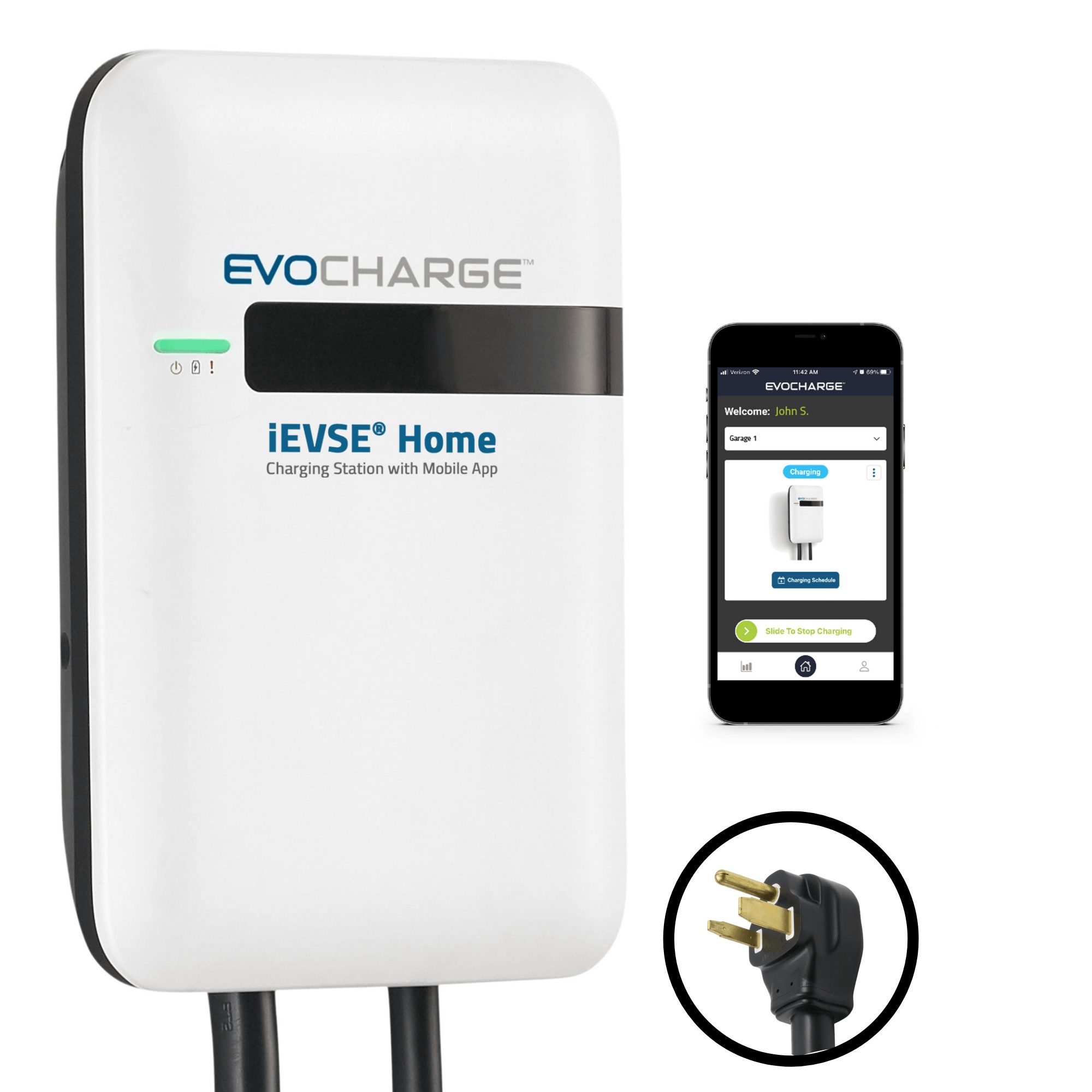 Shop iEVSE
Where does needing an electrician come in?
No matter where you want to set up an EV charging station, you will need a 240v NEMA 6-50 outlet. If you don't have one of those already, we recommend you hire a certified electrician to install the outlet and your new charger. If you purchase the standard EVSE, it's a simple plug-and-charge solution. The iEVSE Home unit, however, connects to 2.4Ghz home Wi-Fi, is powered by the EvoCharge mobile app, and is ideal for those who want better control over their EV charging experience. The app provides users with remote control access from anywhere, making it easy to set up time-of-day charging when electricity rates are lower.
Both chargers come with a NEMA 6-50 plug, for connecting to a 50-amp electrical circuit, or stronger, and a mounting bracket for easy installation. The 50-amp requirement is key, as the National Electrical Code (NEC) requires a minimum panel amperage of 100 amps. You can find your electrical panel's amperage listed on your main circuit breaker. 
Having a certified installer to assess your electrical needs and safe installation future proofs your own charging station.  
Set Up an EV Charging Station Using the EVSE or iEVSE Home
If you want two or more chargers at home to provide simultaneous charging, some EvoCharge stations have load management capabilities which control how much electrical load is applied to the circuit from your chargers, allowing for two or more charging units.
If you want to know more about setting up an EV charging station at home, or have questions, please visit our FAQs or contact us. At EvoCharge, we are backed by more than 100 years of innovation in the automotive industry. This allows us to bring our customers the latest in safe and dependable home EV charging solutions.
Download Checklist