When it comes to electric vehicle charging solutions, the same technology used for commercial charging stations applies for home use. This means that while having a garage is a nice amenity, you can still charge your electric car without a garage of your own — even if you live in a climate with particularly warm or cold weather. But, depending on the solution you want to use, you may need to hire an electrician to ensure your outdoor setup is safe and secure.
How a NEMA 4 Rating Impacts Outdoor Charging
When installing an outdoor charging station, there's some criteria to consider.
The gold standard to knowing if you can have a charging station for your electric car without a garage is whether your charger has a NEMA 4 rating. Formed nearly a century ago, NEMA (the National Electrical Manufacturers Association) sets standards for companies producing electrical products, equipment and wiring.

EvoCharge's Level 2 chargers are all NEMA 4-rated, which means they meet the following criteria for outdoor charging:
Provide protection for personnel against access to hazardous parts.
Offer protection for internal equipment against solid foreign objects commonly found outside — like dirt and windblown dust.
Protection for the charger's internal equipment against rain, sleet, snow, splashing water, and hose-directed water.
Provide protection against external formation of ice on the enclosure.
This means that despite exposure to extreme temperatures and a range of challenges by nature, EvoCharge provides charging solutions that offer good protection from the elements. With the NEMA 4 rating, our EVSE and iEVSE Home chargers work normally from -22℉ to 122℉ (-30℃ to 50℃). Exposure to temperatures outside of this certified range can decrease the functionality of the product.
Smart EV Home Charger
Easily manage your charging with iEVSE Home, EvoCharge's smart electric vehicle (EV) home charger. With Wi-Fi connectivity and a user-friendly app, you can take control of your station's charging capabilities.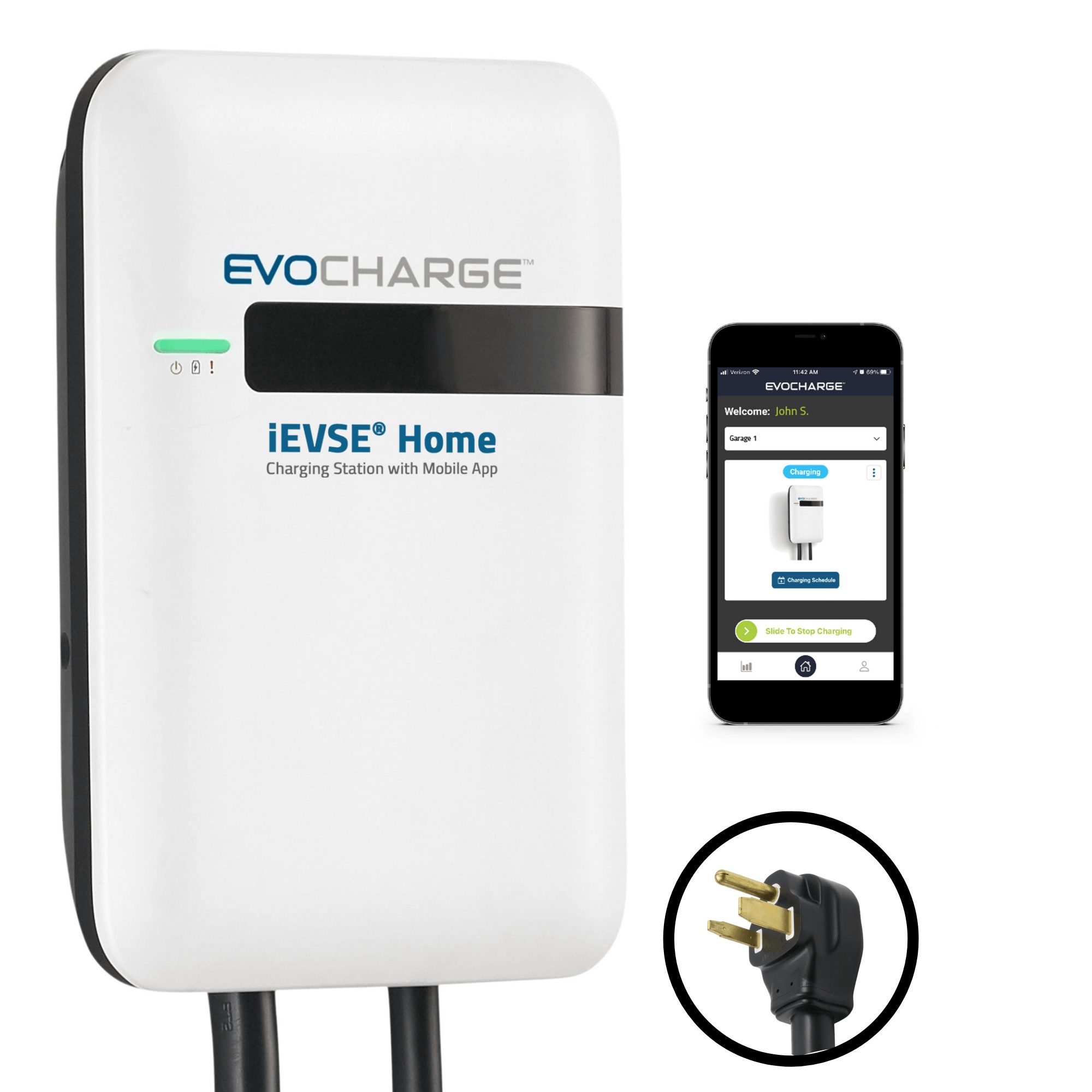 Shop iEVSE
Other Considerations for Outdoor EV Charging
If charging your electric car without a garage, try setting up your charger in a spot that offers some insulation and protection from the elements: against your home's siding, near a shed or a shady place if you live in a hot weather climate. Isolating your charger from bad weather and extreme temperatures can go a long way in keeping your EV charger running its best.
Whether using the EVSE or iEVSE Home outdoors, your charger will need to plug into a 240v outlet. We recommend hiring a certified electrician to hardwire the unit with a water-tight conduit since 240v plugs are not weather-proof.
Note that the iEVSE Home is a smart charging solution, which runs on an app. If you don't have decent Wi-Fi near your charging setup, the EVSE is a simple plug-and-use system that does not require Wi-Fi. Both chargers come with an 18- or 25-foot cable, giving you plenty of length to reach your electric vehicle.
Use the EVSE or iEVSE Home for charging an electric car without a garage.
By using a NEMA 4-rated charger, and mitigating the weather and climate conditions at your home, you can benefit from charging your EV at home outdoors just like those who charge in a garage. If you want to know more about how to charge an electric car at home without a garage or our Level 2 chargers, contact us.