Commercial
EvoCharge iEVSE WiFi Charging Station
Starting from $1137.00
Not sure what to get? Use these tools to help you find a charging solution that works for you.
Easily manage your charging network with iEVSE, EvoCharge's WiFi electric vehicle (EV) charging station. With true OCPP and WiFi connectivity, you choose the third-party network service provider for your EV charging station or connect to your own WiFi—whichever works for you—giving you control and access to charging capabilities.
WiFi EV Charging Station Features
True Open Charge Point Protocol (OCPP) compliant means you can select a non-proprietary network provider
WiFi-enabled EV charging station allows you to connect to the local utility company and network provider to monitor charging
Universal SAE J1772 charger works with all EVs and PHEVs (Tesla with adapter)
Rapid 7.2-7.7kW output: charge up to 8x faster than with a standard Level 1 charger
NEMA 4 rated for indoor and outdoor use and protection from the elements and temperature range -22° F to 122° F
Safety certified as UL/cUL listed
Charging cable options, 18 or 25 ft, for charging distance flexibility
Includes Local Load Management for managing the electrical load to all receiving
Electrical 240V required, optional hardwire or NEMA 6-50 Plug for power supply connection
LED indicator display directly on the EV charging station to view current output and WiFi status
Configurable Options
View more product information and technical documents.
WiFi EV Charger Features & Highlights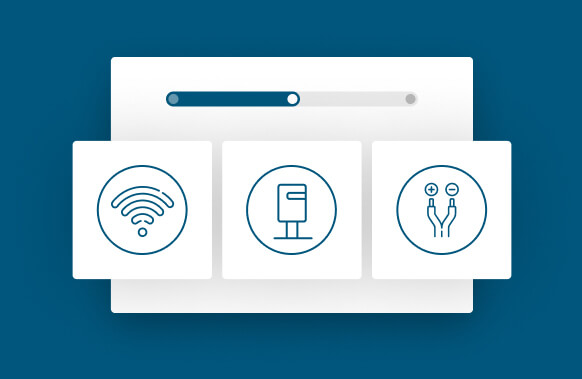 Find the Best Match
Whether you're just getting started or are looking to replace your current WiFi EV charger, check out our easy-to-use Charging Station Builder tool to help you find the best charging station for your needs.
Additional Information
Compatible With All EVs and PHEVs
The iEVSE WiFi EV charger is fully compatible with nearly all Electric Vehicles (EV) and Plug-In Hybrid Electric Vehicles (PHEV) sold throughout the United States and Canada. Tesla vehicles do not use the standard SAE J1772 plug, but an adaptor is available which allows the J1772 to work with Tesla. The adaptor is typically included with the vehicle or available to purchase online.
Get Tax Incentives
To learn if your WiFi EV charging station products and installation are eligible for federal, state and utility incentives and rebates, visit our incentives page!